Bergstrom Cars of North Dakota appreciates and honors those who serve our great nation. Below are some of the great stories shared by veterans in the Lake Region.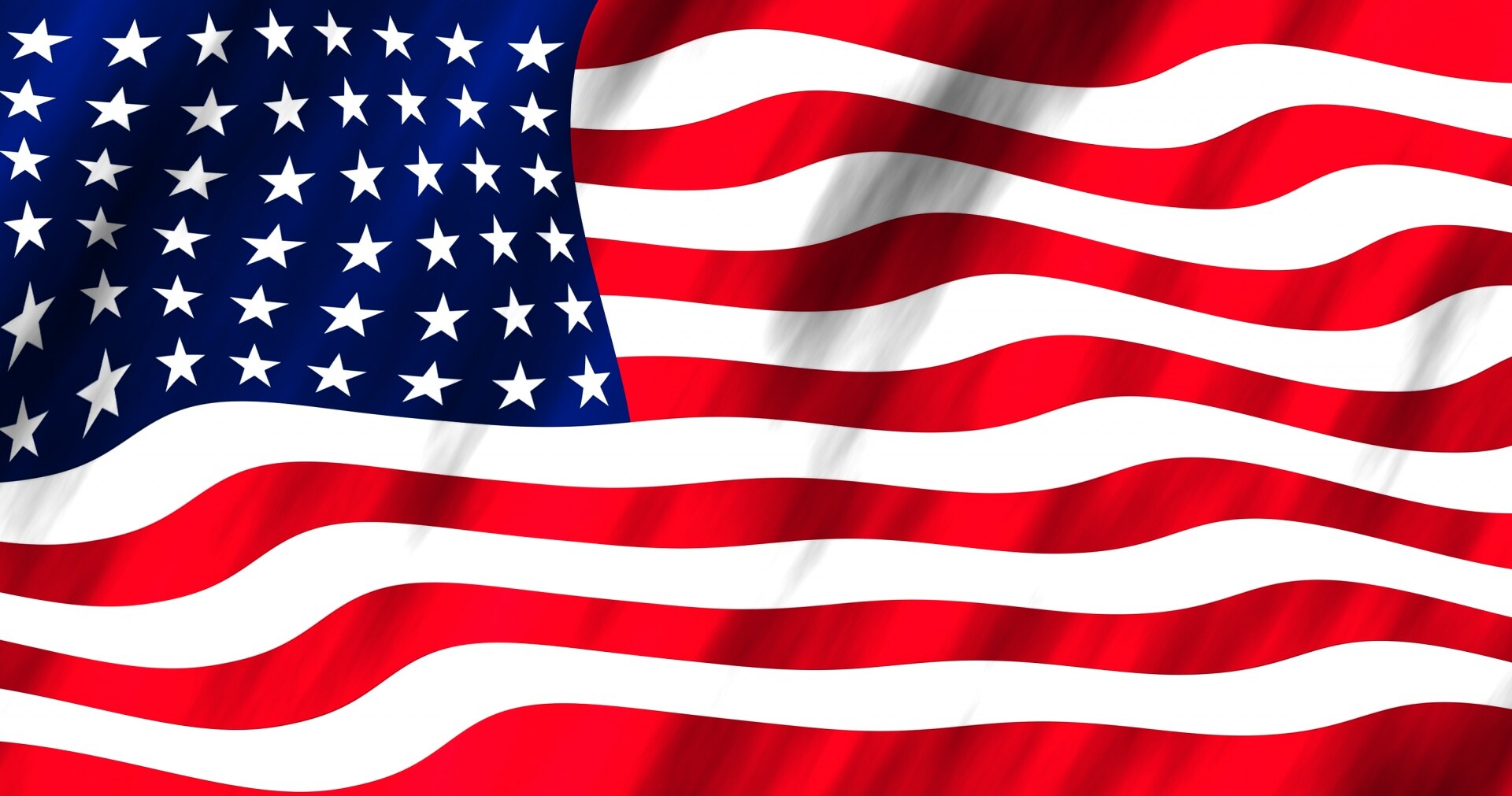 Sheldon "Vince" Vincent
Sheldon "Vince" Vincent served in the Army during the Korean War, Vietnam War, and the lesser-known Dominican Civil War. He joined the Army because he believed most people thought joining was the right thing to do. "There was never any question in my mind whether I was going in. Only question was when." While in Devils Lake at seventeen years old, Vince and his cousin showed their interest in joining the Army. "The old post office had a recruiting office in it. We marched up the front steps and said 'Here we are, send us away!'" After facing a battery of tests, Vince joined the service in January 1952.
Vince recalls a very cold time while on the frontlines in Korea around Christmas in 1953. "We got back in this valley with snow everywhere. Somebody had put up tents for us. They had stoves in them, all we had to do is light the fire. The tent would get warm and melt all the snow. That was great to us." One day, they learned they would be visited by troops from the USO (United Service Organizations, a non-profit group providing services and live entertainment for service members and their families). However, the servicemen would have to set up a stage for the performers, which they were not properly equipped for. They got creative and used their entrenching tools to dig and pack the dirt and snow down, creating an impromptu stage. The USO eventually arrived and braved the elements to entertain them.
Vince had planned to use the money given after his time with the Army to take up farming in North Dakota after he returned from Korea. He left Korea in summer of 1953, but found himself recruited into Special Forces in 1954, then sent away for training in Fort Bragg, North Carolina. As a Green Beret, he saw extensive action in the Vietnam War. Even after experiencing years of work in Special Forces, Vince says he didn't have it as bad as some others. "The people who really suffered are the people who stayed behind. The family, wives and mothers and fathers. The people that have a real vested interest in you, they have no control." His wife Shirley was able to join him while he was in Japan in 1959, which became quite challenging for her. "We would go on missions without any notice at all and we couldn't tell our wives. So sometimes, how she found out I was gone was with an empty bed." Over time, Vince accumulated a list of medals and letters while Shirley didn't receive much for her own sacrifices. "My wife only got one [letter], and I don't think that's fair." He believes we can do more to honor military families.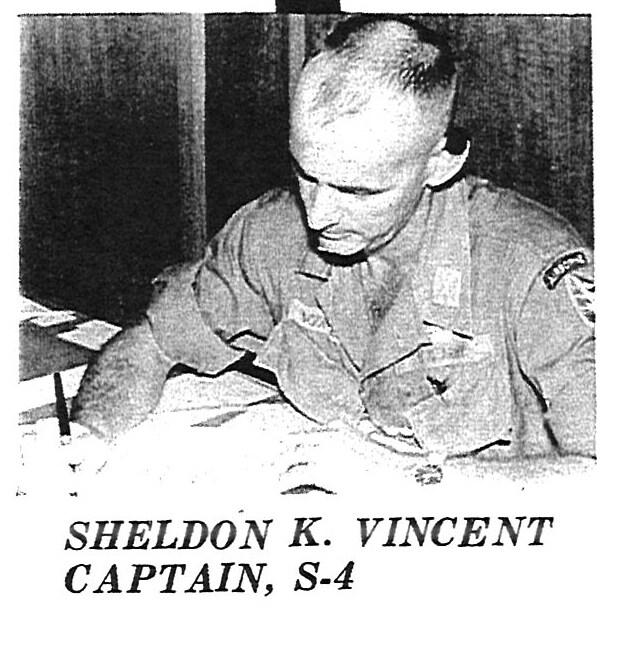 Vince's photo in The Green Beret, a publication of 5th Special Forces Group in Vietnam. 1967.
He left the Special Forces in 1967, saying at that time he had become "a little old, a little tired" for the Green Berets. "The Army was good to me and I was good to them," says Vince. He retired from the military in May 1973 as an Army Major. The day his service ended, he was in Fort Carson, Colorado. After they pinned medals on him, he says he became emotional. "I was saluting the flag for the last time as an active military man."
Vince's decorated military career spanned over twenty-one years. "[The military] is my whole life," he says. Vince believes joining the military could bring a real positive change in how one views the world. "I think it would do a tremendous amount of difference in their concept of what the service is, and how you have to work together and depend on each other."
Thank you for your service, Vince!
-------------------------------------------------------------------------------------------------------------------------------------------------
Carl Gillig
Carl Gillig served twenty years in the Air Force during the Vietnam War, and was a recipient of the Air Force Commendation Medal. At the age of seventeen, he enlisted while living in New Rockford, ND. He had been on his own since he was twelve, and joining the United States Air Force provided what he felt was his best option to provide financial stability.
Within his time with the Air Force, Gillig was assigned to be a drill sergeant. "I believed in training my troops," says Gillig. He received positive critique from commanders, and was often told what a great instructor he was. "Evidently, they appreciated it."
There is one story from his time as a drill sergeant that he and many others within the Air Force remember fondly. The event took place just after a round of basic training. He had a young serviceman who was on a bus leaving basic training for his next assignment. As he left, the serviceman bid his farewell to Gillig with a rude gesture. "He thought he had it made because we had to park on the other side of the squadron. But he didn't know I knew which route that bus took. I foot-raced that bus and got ahead of them, stopped the bus, pulled that young troop off the bus and sent him back to a second week of basic training." Although this happened several decades ago, he says this story is still being shared among some in the service to this day.
Looking back on his twenty years in the service, he knows his experiences enhanced his life and made him a stronger person. To anyone who's interested in joining the military, he adds, "Make sure you have your education, because the service won't even talk to you without a high school education. If you can have a better [education] than high school, get it!"
Thank you for your service, Carl!
-------------------------------------------------------------------------------------------------------------------------------------------------
Roger Keating
Roger Keating served over twenty years in the military-- ten years in the Marines, and a little over ten in the Army. He enlisted at the age of seventeen years old in July 1967, and found himself moving into Vietnam at eighteen. He says he joined because his older brothers had joined the Marines before him, so he followed suit.
During much of his time in the Marines, Keating was a drill sergeant. "You had challenges every day. It wasn't made out to be an easy job." He says if you wanted to make a good career out of the military, becoming a drill sergeant was a good way to get promoted. He notes a lot of training and schooling was involved before accepting those positions.
Some veterans, especially those with post-traumatic stress disorder (PTSD), may prefer not to open up about their experiences. While in Kansas after his time in the military, Keating battled with PTSD often. He thinks it can be particularly difficult to discuss it with anyone who wasn't in the service, which at times made receiving help troublesome. "It started to affect my work, so I was forced to retire," says Keating. After years of traveling and self-reflection, Keating received assistance with the Veterans Affairs center in Fargo. "I think the VA are doing a great job considering all the people they're serving."
Looking back on his years in the service, he believes the military is very rewarding. "If people ask me if I'd do it again, I'd say yes... there are times when things were pretty tough, but yeah. I'd do it again. I'd definitely, definitely do it again."
Thank you for your service, Roger!
-------------------------------------------------------------------------------------------------------------------------------------------------
Duane Hawk
Duane Hawk of Wolford, ND served in the Army during the Vietnam War. He was inducted in October 1966 in Fargo, ND and attended basic training at Fort Bliss in Texas. Later in March 1967, Hawk attended a projection school, where he learned about various audio-visual equipment. It was here where he learned skills he used very often while overseas as a member of the 4th Psychological Operations Group (Airborne). He graduated from the Non-Commissioned Officers Academy at Fort Sill in Oklahoma, where he received training in various weapons, map-reading, medical training, and small unit control for jungle warfare. Later that year, Hawk was a driver for the same colonel who gave his commendation at the NCO Academy. In February 1968, he received more jungle and psychological warfare training at Fort Bragg in North Carolina. It was there that he became a Sergeant E-5.
In April 1968, Hawk left for California where he would board a ship to Vietnam. It would be there where he worked closely with local people, community leaders, and schools. He engaged in what's called "psychological warfare," where the objective would be to win over minds by various methods of anti-Communism propaganda. Hawk operated projectors which would show films for villagers. They were well-known American movies that had propaganda messages concealed within them. Villagers were hesitant at first, but eventually warmed up to the movies and came out in large crowds, sometimes even attracting Viet Cong soldiers. Hawk also spent a lot of time with medical transports that would go into remote and small villages. While the medics worked, he would be tasked with distributing anti-Communism brochures and leaflets written in Vietnamese.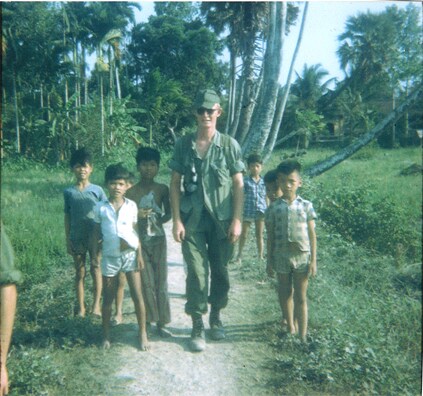 Hawk with some pals from a village
It was in May 1969 that Hawk flew back into the United States from Saigon, after training his replacement earlier that spring. Even though Hawk was in Vietnam only for a little over a year, that year gave enough memories to last him for the rest of his life. Looking back, he realizes that while not all memories were good, he is glad that he was able to serve his country. In 2005, Hawk returned to Vietnam to visit places he remembered. He notes that the country looks far different and better now that the country is at peace.
Thank you for your service, Duane!